Filtering
Experts for automated filtration systems
For many years, Ruland has been an expert in automated filtration systems and plants. Depending on the product, we build and design systems and plants with various filtering media: Dead-end filtration systems with filter cartridges or cross-flow filtration systems with polymer membranes or ceramic membranes.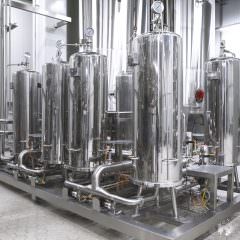 Dead-end filtration
Dead-end filtration is used for particle separation as well as for sterile filtration of water, fruit spritzers, beer or wine.
Cross-flow filtration
Micro-filtration, ultra-filtration and nano-filtration as well as reverse osmosis are so-called cross-flow filtration methods.
Microfiltration
This is used for treatment and as preparation for sterile filtration of beverages and fermentation products. Helically wound modules or hollow fibre modules, including ceramic membranes, are used for this purpose.
Ultrafiltration
This is used to concentrate or fractionate a product with the help of hollow fibre modules.
Nanofiltration
This is used to separate heavy metal ions or very small particles in the foodstuffs and pharmaceuticals industry.
Reverse osmosis
For preparing product water for food and beverages: Helically wound modules separate the particles that have come loose.
You need a filtration system or support for the filtration of your products?
We would be delighted to advise you personally.