Special systems and special processes
Flexible solutions for complex requirements
For the engineers of Ruland, special is the standard. We are flexible and we find convincing solutions even for the most complex technological jobs. We conceive and construct special systems and we develop special processes as well as unique processes for unique products. We particularly enjoy the challenge of meeting special requirements and we leave no stone unturned in finding the perfect solution. Regardless of the challenge you are facing, we think we can help and we look forward to receiving your enquiry.
Consulting
With system and strategy resulting in success
In a lot of cases, the cooperation begins with Ruland in the course of a consulting project. We work out the essentials, check your production process and develop the initial concepts. With this you have a basis for your decision – and you can be sure that all of your requirements will be entirely met.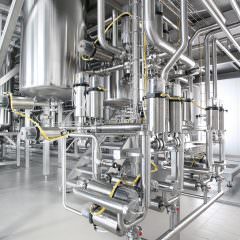 Special processes for unique products
Perfect process systems are always based on two pillars: On process-related know-how and on comprehensive knowledge of the products, their raw materials and properties. In cooperation with our customers, Ruland develops unique systems and plants for the most diverse industries. In the process, the bandwidth ranges from small systems or pilot systems right up to large systems or plants for industrial mass manufacture with maximum output. We also develop systems and plants for processes with unique requirements including the handling of hazardous goods and explosion protection. In doing so, depending on the product and process, even special materials such as high-alloy stainless steels or special plastics may be used.
Special systems that we have implemented for our customers:
Systems for the production of protein hydrolysates / Polymer dissolving system / Drop processing system / Plasma fractionating system / Production system for api-phyto products / Preparation system for bioresorbable non-woven materials / Dispersion and dosing system for polysaccharides / Production plant for ionic liquids / Dosing system for gels / And many other projects which we would like to tell you about but are unable to due to non-disclosure agreements.
You also need a special system or special processes?
We would be delighted to advise you personally.