Aseptic technology
Sterile processes and sterile products
Aseptic technology from Ruland is deployed for manufacturing high-quality, robust and durable products. Consistency is indispensable if products with a long shelf life are not to be contaminated during processing: All process paths and containers are sterilised and the product room is hermetically sealed. Apart from the relevant know-how, you need the appropriate systems and components for this purpose as well as perfectly coordinated process control and monitoring.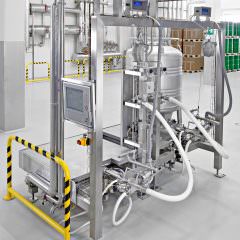 Container handling
Consistent aseptic production does not permit any weak spots: Even in container handling and for all other logistics stations within the production facility, aseptic product transfer must be ensured.
Want to learn more about aseptic technology?
We would be delighted to advise you personally.