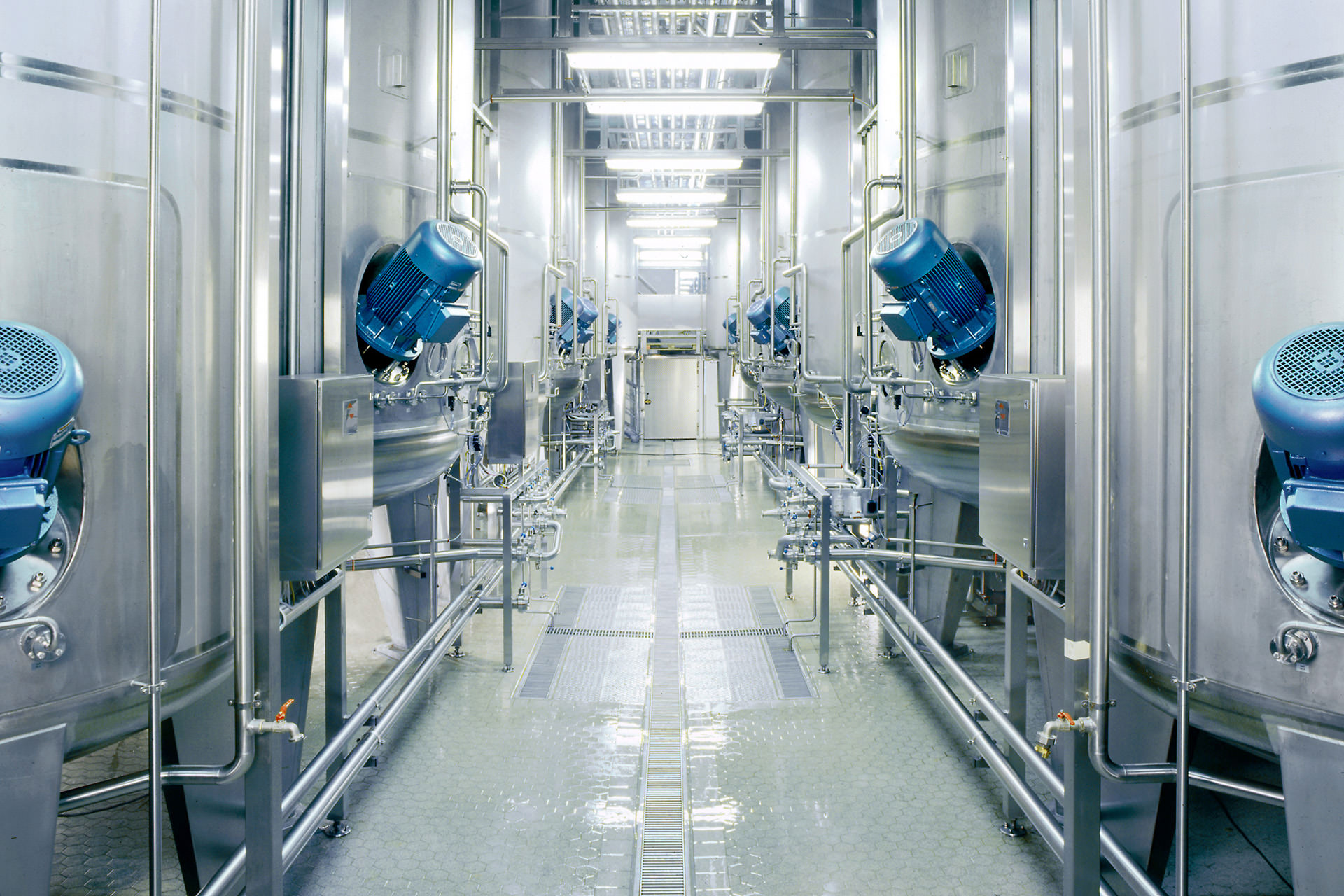 Tank farm and raw material reception for hygienic storage and buffer storage
Accepting raw materials easily and safely
Ruland builds and supplies tank farms and raw material receiving systems for hygienic storage and intermediate storage of liquid products. Our customers purchase the best liquid raw materials for their products. We ensure that the raw materials are safely unloaded and temporarily stored. Whether the raw materials are delivered in tankers, IBCs, Oktabins or drums, our engineering team finds solutions to safely prepare the raw material for production. In the process, we keep an eye on all the necessary process steps and parameters: We know the requirements of the individual ingredients. Ruland's engineers ensure that your raw materials are processed efficiently and ergonomically. The receiving systems are loss-optimised, cleanable and sterilisable on request. Connected scanner systems quickly record all information and transfer the data to the container or tank farm management system.
Engineering and design of a tank farm
Successful storing and buffering
For the process engineering of the tank farm, an overall view on the production process is necessary. This means that the flow of goods and their logistical challenges are known. Ruland optimally designs the storage capacities for uninterrupted production. First of all, the employees check the raw materials with the customers with their material properties, such as high or low viscosity, with or without fibers, with or without pieces, aseptic or low-germ status. Likewise, other factors influencing the quality of the stored product – such as the optimal storage temperature – must be known for the design of the tank farm. The selection of the right process steps is also the basis of a successful project for the storage of raw materials, intermediate product and liquid end product. Together with the customer, we discuss the raw material reception, the storage period and the downstream process. The engineers also determine further conditions such as cooling or mixing with agitator systems during the design. Different types of agitators in the tanks ensure the homogeneity of the product for exact further processing. From this basic and detailed engineering phase result many project interfaces that have to be taken into account. These are, for example, ceiling and floor loads, earthquake zones, drainage and many more.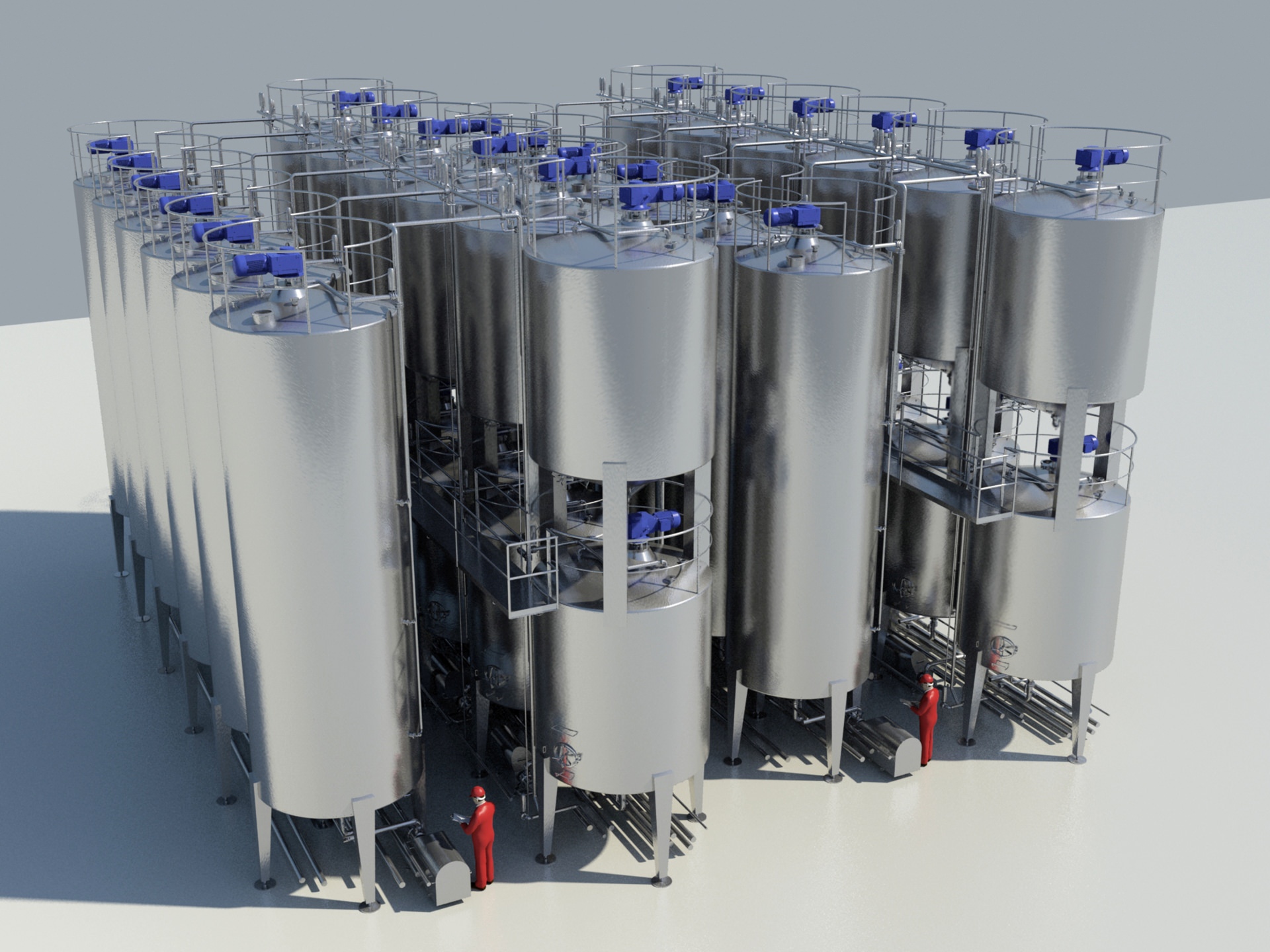 Long-term storage and buffer storage
Different functions of a tank farm
The application determines the size and equipment of the storage facility. In the case of long-term storage, our customers usually use large tanks from 100 m³ to 1,500 m³ to be able to store their products in large quantities over a longer period of time. For example, fruit juices that are pressed seasonally are available all over year. For low turnover frequencies, the connection can usually be rather simple. It varies from hose to panel technology to automatic valves. In a buffer store that is integrated into production, various raw materials are prepared and are available just-in-time for the production line, either at the beginning of the production chain or as an intermediate buffer in the production. Batch sizes, redundancies and, above all, the production speed significantly influence the design of these buffer stores. Buffer stores can also take over various technological processes such as the enzymatic treatment of products. While the process plants usually produce continuously, the filling machines tend to work in cycles. In order to master this interface reliably, an intermediate store is needed in the filling area to compensate for speed differences or fluctuations caused by minor malfunctions on the packaging machines.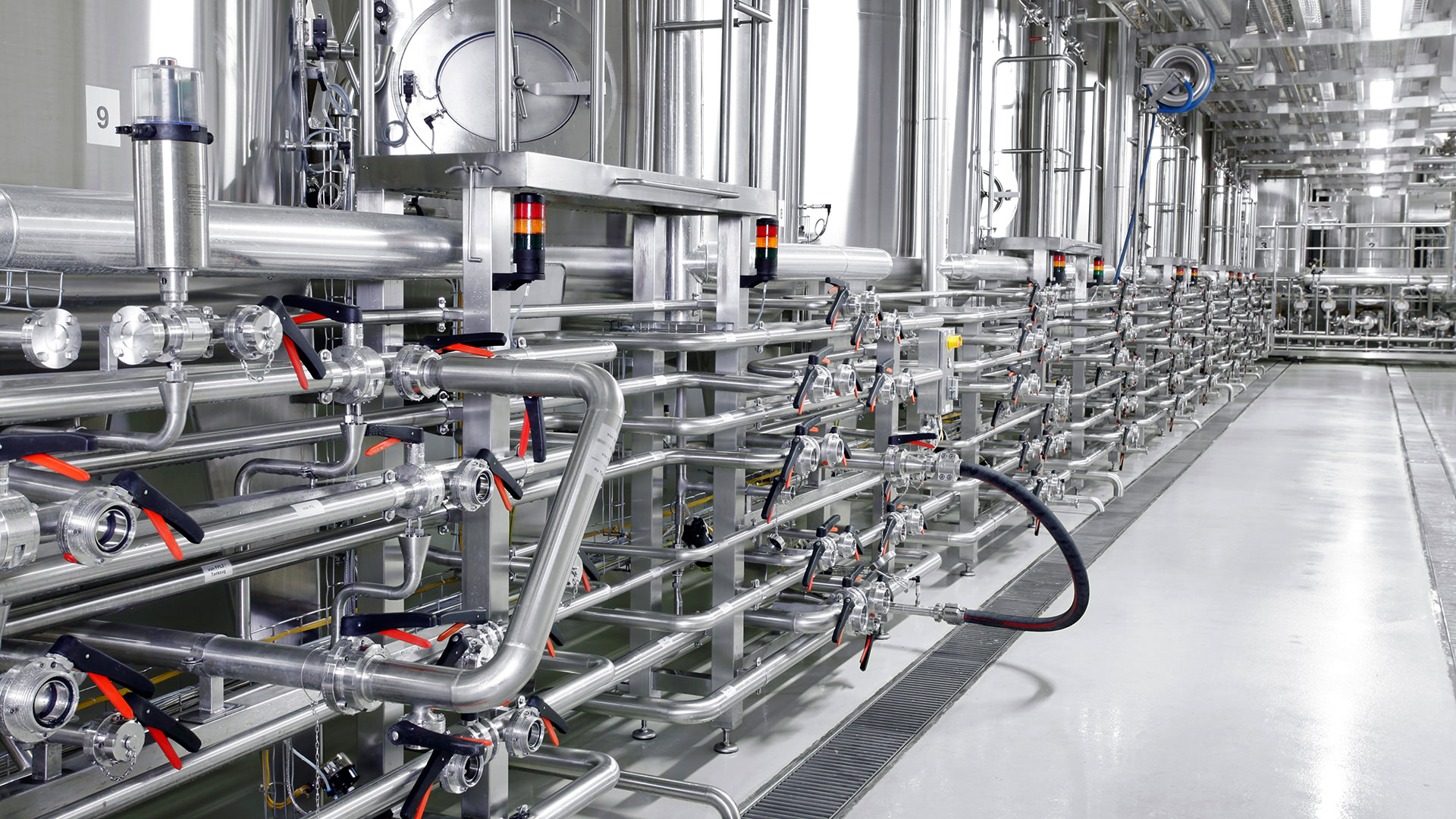 Safe storage of raw materials
The right connection to the process technology
A tank alone does not constitute a storage system. The upstream and downstream process technology also plays an essential role. A gentle process with the appropriate heating equipment preserves the products and at the same time preserves active ingredients, flavors and other important ingredients. Aseptic valve manifolds in hygienic design ensure hygienic product transfer during filling and emptying of the tanks. CIP cleaning systems (Cleaning in Place) and SIP systems (Sanitising in Place) effectively clean tanks, containers (e.g. IBCs) and the entire process line of residues, deposits and microorganisms, thus ensuring suitable hygienic or aseptic conditions within the plant and production system.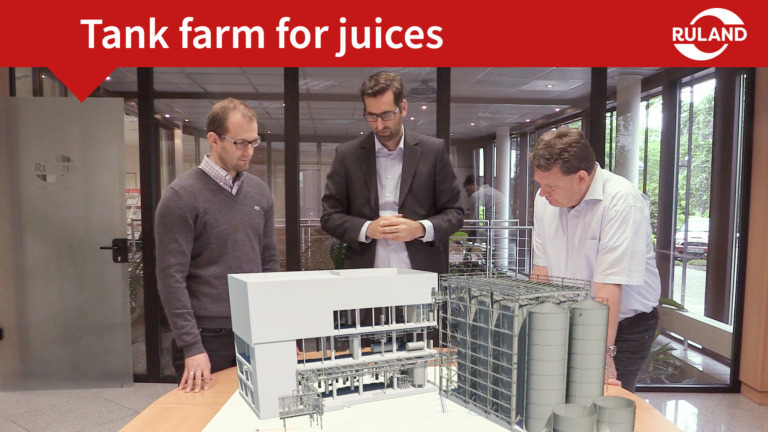 Click at the link below to activate the video. Please note that after activation your data will be submitted to the respective provider.

Controlled conditions in the tank farm
Ruland ensures full monitoring of the storage conditions through appropriate sensor technology and selected control systems. The plant operators can operate their tank farm via visualisation systems and touch screens. For complete logging and batch tracing, we use our RPMS (Ruland Process Management System), a software solution tailored to the process industry. It brings together all the information for managing production or cleaning recipes, managing tank farms and planning optimal plant utilisation. RPMS transfers all values to the higher-level ERP system via a secure interface. RPMS thus makes automatic real time warehouse management possible.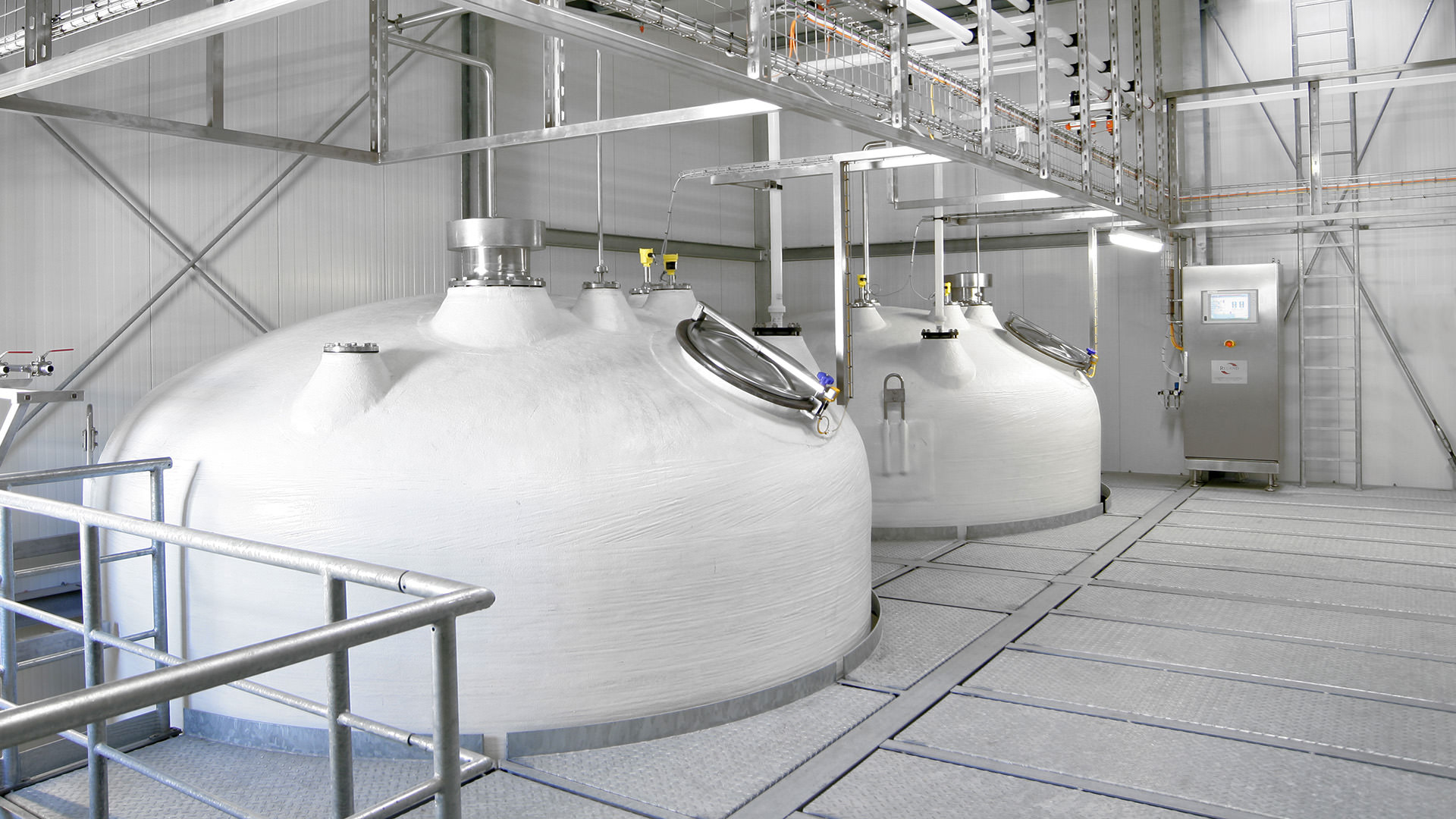 Samples
Tank farms for a wide range of products
Fruit juices: Direct apple juice | direct pear juice | cherry juice | peach juice | elderberry juice. Plant based extracts: Tea | coffee | propolis | oats | soy | almonds. Alcoholic solutions: Ethanol | Isopropanol | cider. Acids: Sulphuric acids | phosphoric acids | citric acid | acetic acid. Bases: NaOH. Fruit concentrates: Orange juice concentrate | tomato paste | apple juice concentrate. Solvents: Methyl acetat. Sugar solutions: Invert sugar syrup | Glucose | Fructose. Oils: Palm oil | rapeseed oil | coconut oil. Fermentates: wine | mixed beer drinks | Hard Selzer. Vitamin solutions: Vitamin A | Vitamin C. Fruit purees: peach | strawberry | apple. Emulsions: Compounds | aroma blends. Hygiene products: Shampoo | Disinfectants
Sterile tanks and containers ensure germ-free storage
Hygienic design and other requirements
To guarantee maximum biological safety of the stored products, we base the design of our tank farms on the guidelines of the EHEDG and the individual product requirements of the customer. In this way, we produce optimal hygienic design facilities for high product safety. In sterile tanks, products are stored in a protective atmosphere with sterile air or filtered nitrogen overlay. The correct preparation of the tank is also important. Before storage, sterile tanks are cleaned and sterilized. If there are special requirements on the material, Ruland works with materials such as titanium steel or plastic. We also implement ATEX requirements for explosion protection and other relevant directives.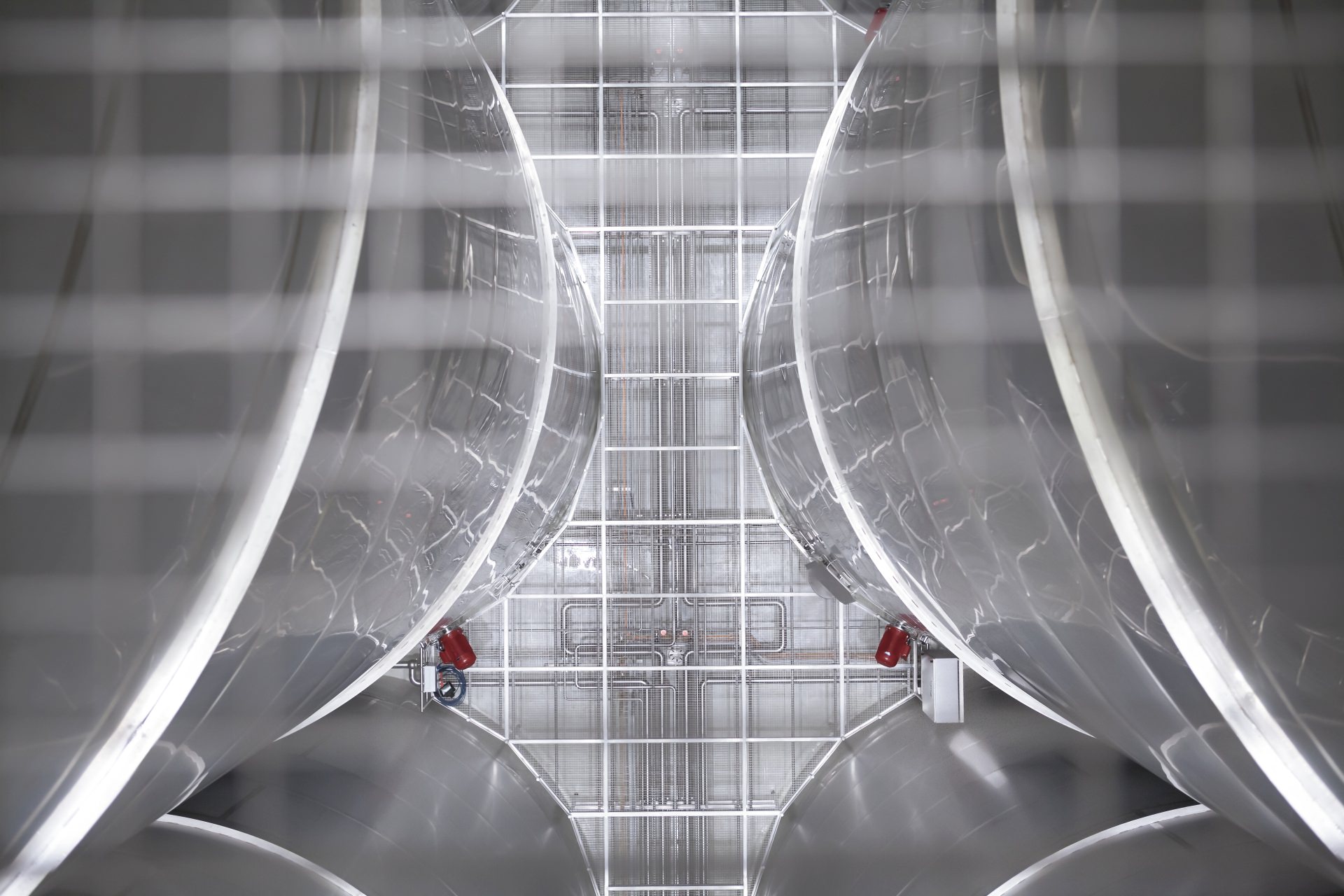 From Ruland from a single source:
Raw material receiving | tank farm | sterile tank farms | sterile tanks | buffer tank farms | mobile storage tanks | freeze thaw tanks | panel technology | pipe fences | valve clusters | process technology | CIP and SIP cleaning systems | automation | controlled tank farm operation
Do you have any question on tank farms, raw material reception and storage?
We will be happy to help you!