At home in many industries
Excellence right up to the last detail
You can find our plants wherever liquid products are produced.
And we are obviously not speaking of only beverages and juices: The applications are just as diverse as the industries in which our technologies are at home.
In the food and beverages industry, not only sauces, dressings and liquid spices are processed on Ruland plants and systems, but even fruit preparations, concentrates and essences are brought to perfection. The pharmaceutical industry deploys our high-performance technology for the manufacture of safe parenterals and high-purity, aseptic injection solutions and infusions. Our bio-reactors prepare vaccines and insulin safely, and enable the manufacture of high-quality enzymes. Moreover, our plants supply ionic liquids and polymer solutions for various applications in the chemicals industry and in the field of medical technology. Proteins and protein hydrolysates are processed in many industries for various use. Ruland supplies customized process systems for the production of proteins and hydrolysates.
Unique products require customised processes
Is your product something very special? Our process technology is also very special!
Standard solutions work sometimes, but not necessarily always. We develop and optimise processes so that your product ultimately has exactly the characteristics that you specify. Regardless of whether you produce large quantities in continuous operation or batch-wise in small scale, we ensure optimal, standardised quality and maximum product safety. In doing so, our experience is the ace up our sleeve: The expertise of our specialists gained from hundreds of projects is incorporated in every new plant developed or optimised by us. We look forward to taking on your challenge!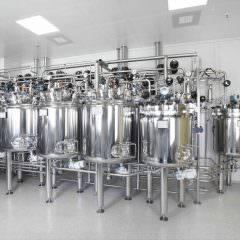 Quality and safety are non-negotiable
A great diversity, short product life cycles and global markets with complex regulatory specifications: Manufacturers are confronted with diverse challenges. At the same time, the demands made on quality and safety keep growing and the tolerance to deviations or non-conformances approaches zero. With this, the requirements of processes and systems also become more stringent. Apart from several other aspects, the design of hygiene and the aseptic characteristic deserve special consideration. We follow the strict specifications of the European Hygienic Engineering & Design Group for this purpose.
We go the extra mile for the quality and safety of your products: We test the individual production steps and inspect our welded seams with an endoscope. In the process, we ensure proper and detailed documentation – if you like we can do this right up to the minutest detail.
Are you looking for the right production technology, process optimization or automation technology?